สิวคืออะไร
สิวเป็น โรคผิวหนังที่พบบ่อยของมนุษย์  โดยในช่วงวัยรุ่น สิวมักมีสาเหตุเกิดจากการเพิ่มขึ้นของฮอร์โมนแอนโดรเจน ซึ่งเกิดขึ้นในช่วงวัยแรกรุ่น ทั้งชายและหญิง โดยสิวที่เราพบได้บ่อยคือ สิวอักเสบ สิวอุดตัน และสิวผดตามหน้าผากและไรผม สาเหตุหลักของสิว แบ่งได้ 2 ปัจจัยดังนี้
ปัจจัยภายใน คือ ปัจจัยที่เกิดจากร่างกายเราเอง เช่น ฮอร์โมน, กรรมพันธุ์, โรคเรื้อรัง
ปัจจัยภายนอก คือ ปัจจัยที่เกิดขึ้นจากนอกร่างกายของเรา เช่น ยา, เครื่องสำอาง, สภาพแวดล้อม, แสงแดดและอุณหภูมิ ความสะอาด และอาหารที่เรากินเข้าไป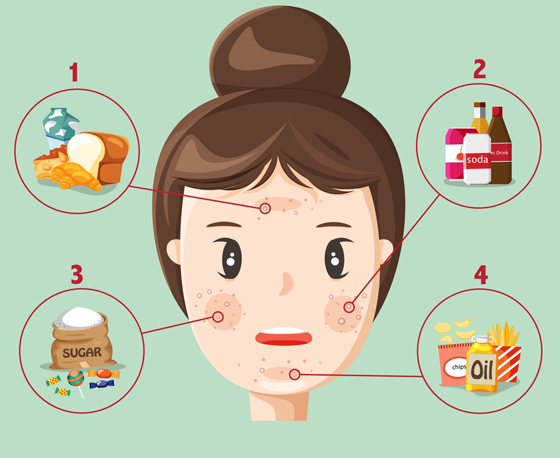 ภูมิแพ้ผิวหนังคืออะไร
ผื่นภูมิแพ้ผิวหนังสามารถเกิดได้จากปัจจัยหลายอย่าง เช่น การแพ้เนื่องจากสัมผัสกับพืช ดอกไม้  จากการกินยา หรือจากการกินอาหาร โดยผื่นผิวหนังอักเสบ (Eczema) ผื่นลมพิษ (Urticaria) และผื่นแพ้ (Contact dermatitis) เป็นผื่นชนิดที่พบได้บ่อยที่สุด แต่ผื่นภูมิแพ้ที่เกี่ยวข้องกับอาหารจะพบได้บ่อย 2 ชนิดคือ ผื่นผิวหนังอักเสบ (Eczema) และผื่นลมพิษ (Urticaria)
ผื่นผิวหนังอักเสบ (Eczema; Atopic dermatitis)
ผื่นผิวหนังอักเสบ หรือบางครั้งอาจเรียกว่า ผื่นภูมิแพ้ผิวหนัง (Atopic dermatitis) พบได้ประมาณ 10-20% ในเด็ก และ 1-3% ในผู้ใหญ่ สามารถเกิดได้กับทุกส่วนของร่างกาย ที่พบบ่อยคือ คือ ด้านในข้อพับหรือด้านนอกของข้อเข่า ข้อศอก รอบคอ มือ แก้ม และหนังศีรษะ อาการที่พบได้บ่อย คือ ผิวแห้ง แดง ระคายเคือง ตกสะเก็ด และมีอาการคัน หากปล่อยไว้จนมีการติดเชื้อร่วมด้วย ผิวหนังอาจมีลักษณะของตุ่มน้ำขนาดเล็ก ผื่นผิวหนังอักเสบนี้มักพบว่า มีประวัติคนในครอบครัวเป็นโรคภูมิแพ้มาก่อน
ลมพิษ (Hives; Urticaria)
ลมพิษ (Hives) หรือเรียกอีกอย่างว่า Urticaria มีลักษณะเป็นผื่นหรือปื้นนูนแดงเกิดขึ้นตามผิวหนัง เมื่อออกแรงกดผื่นจะเปลี่ยนเป็นสีซีดหรือสีขาวที่ตรงกลางของผื่น (วิธีสังเกตุ) ผื่นลมพิษแบ่งได้เป็น ระยะเฉียบพลัน (ไม่เกิน 6 สัปดาห์) และระยะเรื้อรัง (เกิน 6 สัปดาห์) สาเหตุของผื่นลมพิษเฉียบพลันที่พบได้บ่อย คือ เกิดจากการสัมผัสกับสารก่อภูมิแพ้ผิวหนัง หรือเกิดจากการติดเชื้อ แต่ผื่นลมพิษเรื้อรังนั้นยังไม่ทราบสาเหตุที่ชัดเจน ส่วนมากมักพบว่ามีความเกี่ยวข้องกับภูมิต้านทานของร่างกายที่ต่อต้านอาหารบางชนิด
อ้างอิง
https://cellsciencesystems.com/education/research/inflammatory-symptoms-immune-system-and-food-intolerance-one-cause-many-symptoms
Maintz L, Benfadal S, Allam JP, Hagemann T, Fimmers R, Novak N (May 2006). "Evidence for a reduced histamine degradation capacity in a subgroup of patients with atopic eczema". The Journal of Allergy and Clinical Immunology. 117 (5): 1106–12.
Ozdemir O, Mete E, Catal F, Ozol D (January 2009). "Food intolerances and eosinophilic esophagitis in childhood". Dig Dis Sci. 54 (1): 8–14
Pastar Z, Lipozencić J (2006). "Adverse reactions to food and clinical expressions of food allergy". Skinmed. 5 (3): 119–25, quiz 126–7.
Maurer M, Hanau A, Metz M, Magerl M, Staubach P (February 2003). "[Relevance of food allergies and intolerance reactions as causes of urticaria]". Hautarzt (in German). 54 (2): 138–43.
http://www.mcppnet.org/publications/ISSUE22-2.pdf
https://www.ncbi.nlm.nih.gov/pmc/articles/PMC6074204/
Schäfer T, Böhler E, Ruhdorfer S, Weigl L, Wessner D, Filipiak B, et al. Epidemiology of contact allergy in adults. Allergy. 2001;56(12):1192–6.
Harish Babu BN, Mahesh PA, Venkatesh YP. A cross-sectional study on the prevalence of food allergy to eggplant (Solanum melongena L.) reveals female predominance. Clinical and experimental allergy: J Brit Soci Allergy & Clin Immunol. 2008;38:1795–1802.
Chang RL, Li FY, Li WS, Jiang YM. [An epidemiological study of food intolerance in 2434 children]. Zhongguo Dang Dai Er Ke Za Zhi. 2013;(7):550–4.
Dannaeus A, Inganäs M. A follow-up study of children with food allergy. Clinical course in relation to serum IgE- and IgG-antibody levels to milk, egg and fish. Clin Allergy. 1981;11(6):533–9.
Jansen A, Mandić AD, Bennek E, Frehn L, Verdier J, Tebrügge I, et al. Anti-food and anti-microbial IgG subclass antibodies in inflammatory bowel disease. Scand J Gastroenterol. 2016: