PRP or Platelet Rich Plasma Therapy is the treatment includes injecting platelet rich plasma (PRP) the stimulants, extracted from the blood, into the area requiring treatment to accelerate the reparation of the body, area such as cartilage of the joints, muscle and tendons. The method is a natural induce process that reduces the duration of the treatment and safeguards the patient from harmful side-effect cause by synthetic substances, namely steroid type. The treatment method is most suitable for treating injuries and deteriorative organs derived from accidental cause or overly used.
Treatment can be very effective in conditions of:
Knee and shoulder osteoarthritis or joint deterioration
Mild to moderate degree of cartilage or meniscus injury
Chronic tendinitis (tendon inflammation) of shoulder and knee
Achilles tendinitis (Inflamed Achilles tendon)
Tennis or Golfer's Elbow
Plantar fasciitis (Inflamed foot tendon)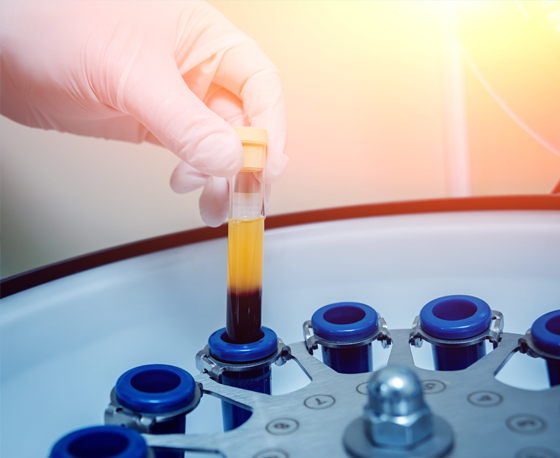 Advantages of PRP treatment at Klaire medical center
Personnel: Specialized orthopedist treatment for bone and joint injuries including graduated in Sport medicine directly and have experience and knowledge in athlete treatment.
Location: Perform procedures in a clean room within a clean environment with regular disinfection to reduce the risk of infection which is dangerous to organs, especially joints.
Equipment: We use the Arthrex brand from America. It is one of the top high-quality equipment in the world that has been certified by the FDA. We guarantee safety and efficiency higher than general equipment.
Sterilization standard: We use only single-use materials, and no reuse is strictly prohibited. And every step of the procedure is sterile, Aseptic technique
Accuracy: Enhance the effectiveness of PRP injections in complex organs or requiring extra precision with the Ultrasound guide injection technique.
Special PRP by KMC
: is a PRP injection in combination with Ondamed (Pulse Electromagnetic Field: PEMF).  It is suitable for osteoarthritis with obvious pain in the joints. Ondamed reduces joint inflammation and promotes the healing of surrounding tendons and ligaments.
: is a laser light that has the property of energizing cells, increasing blood circulation, and reducing inflammation in the joints after PRP injection. It increases the repair rate of cartilage faster and reduces inflammation. More than conventional PRP.
: is a single injection of PRP combined with laser and Ondamed. It reduces pain, inflammation and restores joints faster. It is suitable for those who need rapid healing results or those with osteoarthritis or more severe cartilage injury.